2014-07-15
Festspieleröffnung in Erl. Nach Haselsteiners rhetorischem Russlandausflug meint Platter: Er wolle nicht nur über die Ukraine reden. Vielmehr über 1914. Im ersten Weltkrieg habe es die Tiroler am allerschlimmsten getroffen, prangert die Trennung Tirols an, dieses Unrecht, sagt er. Schuld sei der Nationalismus. So sehr ich mich auch anstrenge, mir fällt auch nix ärgeres als die tirolerische Diaspora ein. Außer 17 Millionen Tote vielleicht.
2014-04-27
"
Wir müssen sie Tag und Nacht jagen und sie aus der Stadt vertreiben" — LA Federspiel über Nordafrikaner in der TT am Sonntag.
Frage mich schon, in welcher Funktion der Herr Federspiel zu diesem "runden Tisch" eingeladen wurde, außer dass er sich selbsternannt für die Sicherheit in Innsbruck zuständig fühlt. Jedenfalls bietet ihm die TT auf drei Seiten reichlich Platz für seine Tiraden.
2014-04-09
http://diepresse.com/home/politik/aussenpolitik/1429737/NSA-hat-Vertrag-mit-Osterreich-abgeschlossen-
2013-12-09
TAFTA = Korporatur = Herrschaft der Konzerne
TAFTA - die große Unterwerfung
2013-08-15
Wondering how the concept of
post-traumatic growth relates to tribal initiation rituals. Found no connection in the literature. Seems research is focusing on 'real' traumata.
I like the idea that initiation rites might be an attempt to formalize the 'benefits' of post-traumatic growth.
2013-03-26
Google Reader's Takeout data export function works like if Dropbox decided to shut down and generously let me export a list of my filenames instead of the actual files.
2013-02-17
Swami Satyananda's facepalm tutorial (1969)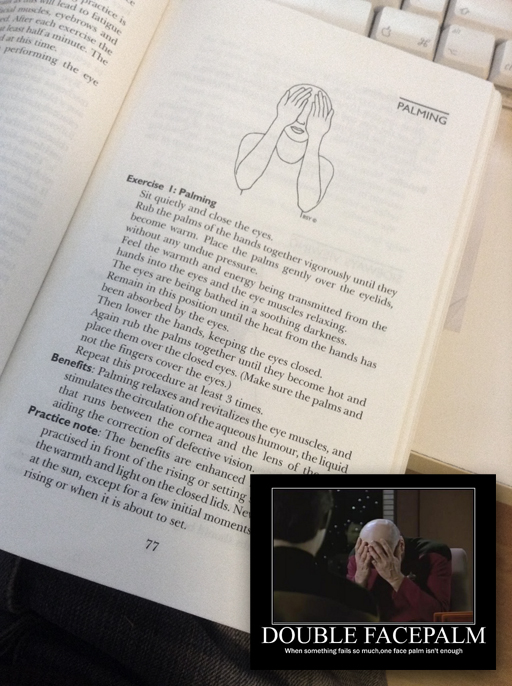 2013-02-13
"Without prejudice, however with all the implied naivety, maybe even stupidity, yes, this is an attempt to build an Apache CouchDB implementation of yours truly document database in PHP and MySQL. Read again: This is not another PHP library to access CouchDB, it's a variant of CouchDB itself using PHP and MySQL under the hood."
https://github.com/walterra/couchphpdb
2012-12-22
Der Spiegel über Grimms Märchen.
Faszinierend zu lesen, wie aus einer multikulturellen Sammlung von Geschichten rund um Gore, Splatter und die Abgründe der menschlichen Seele ein scheinbar kindertaugliches, moralisch bildendes Stück deutscher Identität wurde.
2012-12-13
Instagram (=Facebook) blocks embedding into Twitter. Twitter deprecates RSS. Old School Media Companies don't like search engines to preview snippets of their content.
Seems like this communist hypertext thingy doesn't fit a capitalists wet dream so well after all.
Update: And remember, if you think things can't get worse, there's always room for some intensification: Seems like Twitter doesn't like linking to external sites:
https://twitter.com/design_related/statuses/5437136454
Tags: mind your own business
This is Spadta: Suchmaschinenoptimierung — Handgemachter Schmuck