2013-12-09
TAFTA = Korporatur = Herrschaft der Konzerne
TAFTA - die große Unterwerfung
2013-08-15
Wondering how the concept of
post-traumatic growth relates to tribal initiation rituals. Found no connection in the literature. Seems research is focusing on 'real' traumata.
I like the idea that initiation rites might be an attempt to formalize the 'benefits' of post-traumatic growth.
2013-03-26
Google Reader's Takeout data export function works like if Dropbox decided to shut down and generously let me export a list of my filenames instead of the actual files.
2013-02-17
Swami Satyananda's facepalm tutorial (1969)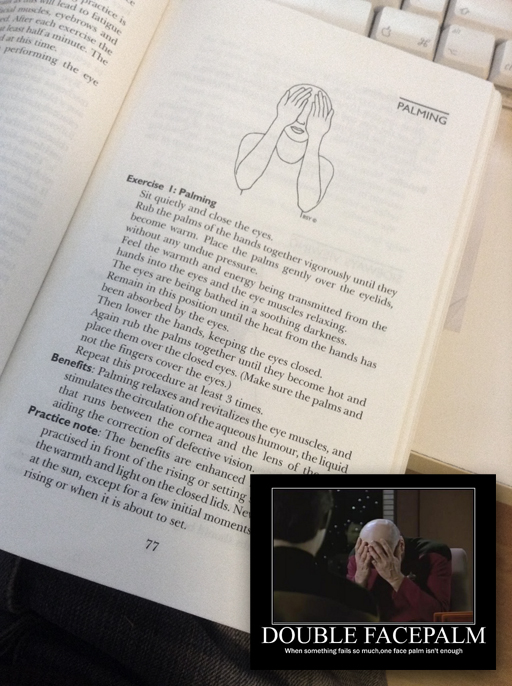 2013-02-13
"Without prejudice, however with all the implied naivety, maybe even stupidity, yes, this is an attempt to build an Apache CouchDB implementation of yours truly document database in PHP and MySQL. Read again: This is not another PHP library to access CouchDB, it's a variant of CouchDB itself using PHP and MySQL under the hood."
https://github.com/walterra/couchphpdb
2012-12-22
Der Spiegel über Grimms Märchen.
Faszinierend zu lesen, wie aus einer multikulturellen Sammlung von Geschichten rund um Gore, Splatter und die Abgründe der menschlichen Seele ein scheinbar kindertaugliches, moralisch bildendes Stück deutscher Identität wurde.
2012-12-13
Instagram (=Facebook) blocks embedding into Twitter. Twitter deprecates RSS. Old School Media Companies don't like search engines to preview snippets of their content.
Seems like this communist hypertext thingy doesn't fit a capitalists wet dream so well after all.
Update: And remember, if you think things can't get worse, there's always room for some intensification: Seems like Twitter doesn't like linking to external sites:
https://twitter.com/design_related/statuses/5437136454
2012-09-20
wow. this is just crazy.
i once had a nice workflow: when reading the twitter stream via mobile (using the actual official twitter client) i often favourited tweets with links. i did that when i wanted to maybe read a longer blog post later or if reception was bad and i couldn't access the link. the favourites where hooked via RSS into google reader. that way i could visit the links later when i was on a desktop.
well, that was over when twitter had the glorious idea to switch off RSS support altogether. great idea guys.
now there exists this nice service called ifttt (if this then that) which uses social media apis and would allow a similar hook. well, seems, not anymore:
"September 27th we will be removing all Twitter Triggers, disabling your ability to push tweets to places like email, Evernote and Facebook." —
http://www.robertlender.info/blog/archives/3574-Twitter-und-IFTTT-oder-kurz-Autsch
what the H E double hockey sticks are they doing?
i actually never thought twitter would become the worse data silo than facebook.
Update: With Google shutting down Reader this posting just eat itself and drowned the sorrow with a bottle of good ol' Single Malt.
2012-05-05
"I had all the ideas for Star Wars!"
2012-01-26
Teilweise gespannt, aber auch teilweise nicht ohne (zugegeben zynische) Belustigung beobachte ich momentan die Diskussionen rund um Occupy Austria. Derzeit sammle und ordne ich noch Gedanken.
Franz Hörmann schreibt heute

"Diese Bewegungen (also Occupy) besitzen (noch) keinerlei zentrale Struktur oder Programm, keine formale Mitgliedschaft und keine formelle Führungsstrukturen..."
Auch von weniger prominenten Zeitgenossen fallen mir Meldungen auf, die sich fragen, wie man die Occupy-Bewegung formalisieren kann (z.B. Vereinsgründung, Partei o.ä.). Auf der Occupy-Austria-Facebook-Seite wird gefordert, dass sich die Administratoren zu erkennen geben.
Spannend insofern, wenn man das mit #unibrennt vergleicht. Uni-Vertreter, Medien und Politik verlangten nach "Vertretern", nach Individuen für Gespräche. #unibrennt ist aber bewusst nur als gesichtsloses Kollektiv zu Interviews und Gesprächen angetreten. (vgl. dazu auch die hervorragenden Texte von
Jana Herwig und anderen, auch in Bezug auf #anonymous). (siehe auch unibrennt-querlesen)
Frei nach Deleuze sehe ich die Occupy-Bewegung durch die momentane Diskussion nicht in Gefahr, ganz im Gegenteil. Jeder Versuch der Formalisierung, der Vereinnahmung oder auch der Denunzierung führt zur Selbstentlarvung derer, die das tun.
Die inhärente Hierarchie einer Facebook-Seite entlarvt sie selbst als nicht geeignetes Kommunkations- und Organisationstool einer Graswurzelbewegung.
Die Presse entlarvt sich selbst, wenn sie von Occupy konkrete Forderungen einfordert, aber es nicht der Mühe wert findet, möglicherweise journalistisch recherchierend herauszufinden, ob es diese nicht eh gibt.
Herr Hörmann entlarvt sich selbst, wenn er eine neue Gesellschaftsform heraufbeschwören will, aber im selben Atemzug bzgl. Occupy von "zentraler Struktur", "formaler Mitgliedschaft" und "formellen Führungsstrukturen" redet.
Persönlich bin ich nicht der Meinung, dass es sinnvoll ist, sich mit einem bestehenden System zu arrangieren, um es von innen heraus zu verändern. Wenn man als Mensch (oder sei es als Hund) in ein Haifischbecken springt, wird man dadurch nicht selbst zum Hai.
Und zu guter Letzt: Entlarvend finde ich auch die Diskussion bzgl. Antisemitismus und rechte Vereinnahmung rund um Occupy und Franz Hörmann.
Im Prinzip ist eine späte, aber dann doch reflexartige Distanzierung vom Antisemitismus bei angelegtem medialen Fallstrick ein Zeichen von Unwissenheit, Naivität oder Kalkül. Unwissenheit und Naivität in dem Sinn, dass es am Bewußtsein für die Problematik fehlt und man sich ja nicht als Antisemit fühlt (vgl. z.b. "Ich bin bestimmt kein Rassist, aber ...").
Siehe auch: Was kommt noch?
Update:
Attac nimmt Stellung
Tags: mind your own business
This is Spadta: Suchmaschinenoptimierung — Handgemachter Schmuck